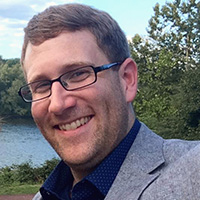 A Practice of Play
Through the majority of my graduate studies I was guided by the mantra of "learning to play again" – a concerted effort to live life less seriously and recapture the creative capacity of my play-filled youth. My thesis chronicles my journey as I discovered the impact a practice of play can have on my life, my creative practice, and the people who interact with my creative work.
My "learning to play again" mantra lead me down many paths, but the most fruitful was the exploration of open-ended game systems – games with fixed sets of physical components but countless options for rules and gameplay. These systems provide the framework and structure that many people – particularly adults – often need to initiate play, but still provide the openness that allows for the sort of imaginative play that sparks creativity and innovation.
In support of my thesis, I designed and developed my own open-ended game: a wooden building block-based game I simply named BLOCK. While I have created a few sets of rules for BLOCK, I'm also working to grow a community of fellow players, makers, and game designers to help expand the library of rules that can be played using BLOCK's open structure. To facilitate this, I've created CoCreateGames.com to supply others with resources to guide them in the creation of their own BLOCK games, cultivate the community supporting the game, and provide a platform for new iterations of the game to be shared and discussed.
_______________________
Ryan is a Visiting Instructor of Graphic Design at Miami University in Oxford, Ohio. He lives just outside of Muncie, Indiana with his wife Kristen and two boys Ethan and Will.
latest Nike Sneakers | Nike nike air max paris 1 patch 2017 , Sneakers , Ietp STORE